BUSINESS IDEAS FOR


SMARTER, SUSTAINABLE AND MORE SECURE CITIES
Do you have an innovative business idea that addresses one of our city challenges? Are you interested in security and privacy issues of IoT devices and apps?
Apply by 26 August 5pm CET/Brussels Time to participate at our 5 days online contest (between 6 and 10 September 2021) and get the chance to design, develop and present your business idea before a panel of international experts.
Are you ready for the challenge?
Update: applications are now closed.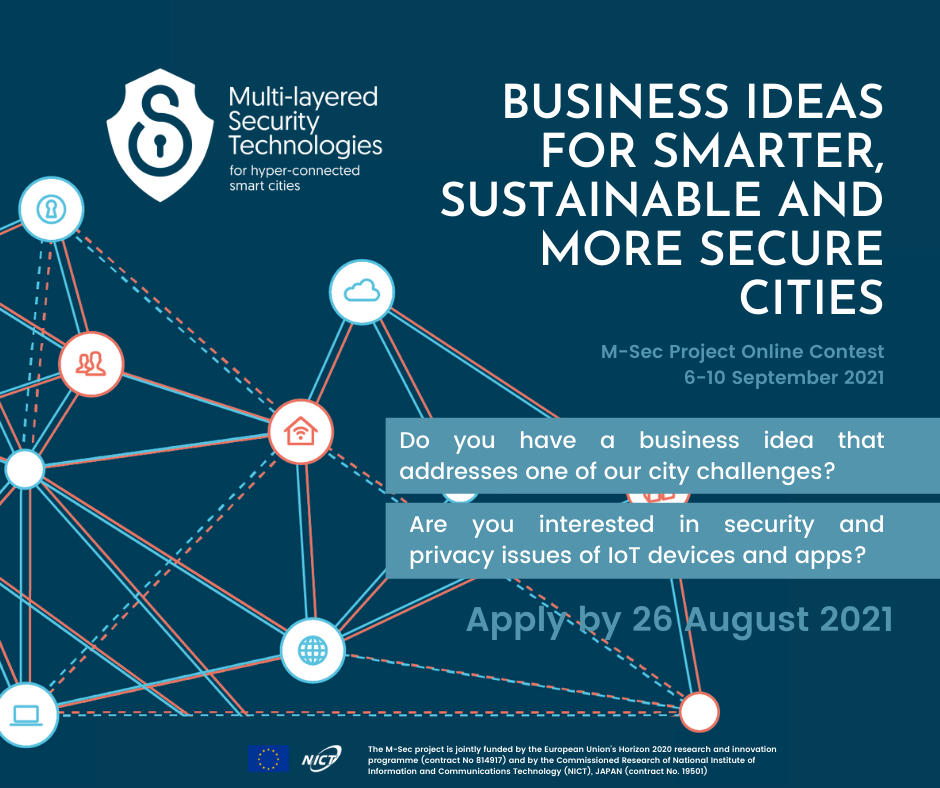 The M-Sec online contest intends to be a space in which developers, entrepreneurs, startups, data scientists, University students, research community and persons interested in making their city a better place can gather to develop, in a collaborative and interdisciplinary way, a business idea that makes our cities more efficient, intelligent, sustainable, and secure.
Participants must be, at least, a team of 3 members and put together a business idea that addresses a city challenge and uses the M-Sec framework as a security and privacy element of that business case. The main goal is to leverage the M-Sec framework and, at the same time, provide other business models and use cases where M-Sec can be used, to make cities smarter and more cyber secure.
The Online Contest will take place between 6 and 10 September 2021. It is a completely free event in which teams are expected to receive support in the design and development of their new and early-stage business ideas, helping them better prepare to present the idea to a panel of international experts, who will decide the top 3 winners of each city challenge.
Hurry up and apply with your business idea by 26 August 5pm CET/Brussels Time as only the 1st 20 teams who submit an application will be selected!
M-Sec will support the top 3 winners of each challenge in maturing and refining their ideas into tangible business solutions
A better city for the elderly
Challenge description: The population of cities is ageing rapidly and there is a need to provide solutions to the problems of the elderly, such as isolation in their homes, poor social relations, lack of physical activity, urban mobility difficulties or barriers, and so on. The challenge is to propose a business idea that helps address one or more of senior's citizens problems.
Improving the efficiency of road administration
Challenge description: Propose a business idea on how to prioritize the maintenance and repair of city-managed roads in an efficient manner. Ideas for maintenance/repair/renewal of sewers, parks, or playground equipment are also welcome.
Who and how to participate?
Teams with a minimum of 3 members and a maximum of 5 members

Teams from all sources, sectors and all types of organisations and people

Established or from an EU Member State or H2020 Associated Country or Japan

Teams must submit an original innovative and relevant business idea, addressing one of the city challenges

Teams must also consider the use and integration of the M-Sec framework as part of the business case, to address security and privacy concerns related to the city challenge

Business ideas should be at concept phase. However, more advanced stages of implementation (e.g., prototyping, implementation) are also welcomed

Business ideas must be based on the (future) development of an original software (web/mobile app) and/or hardware (sensors, cameras) solution that solves one of the city challenges